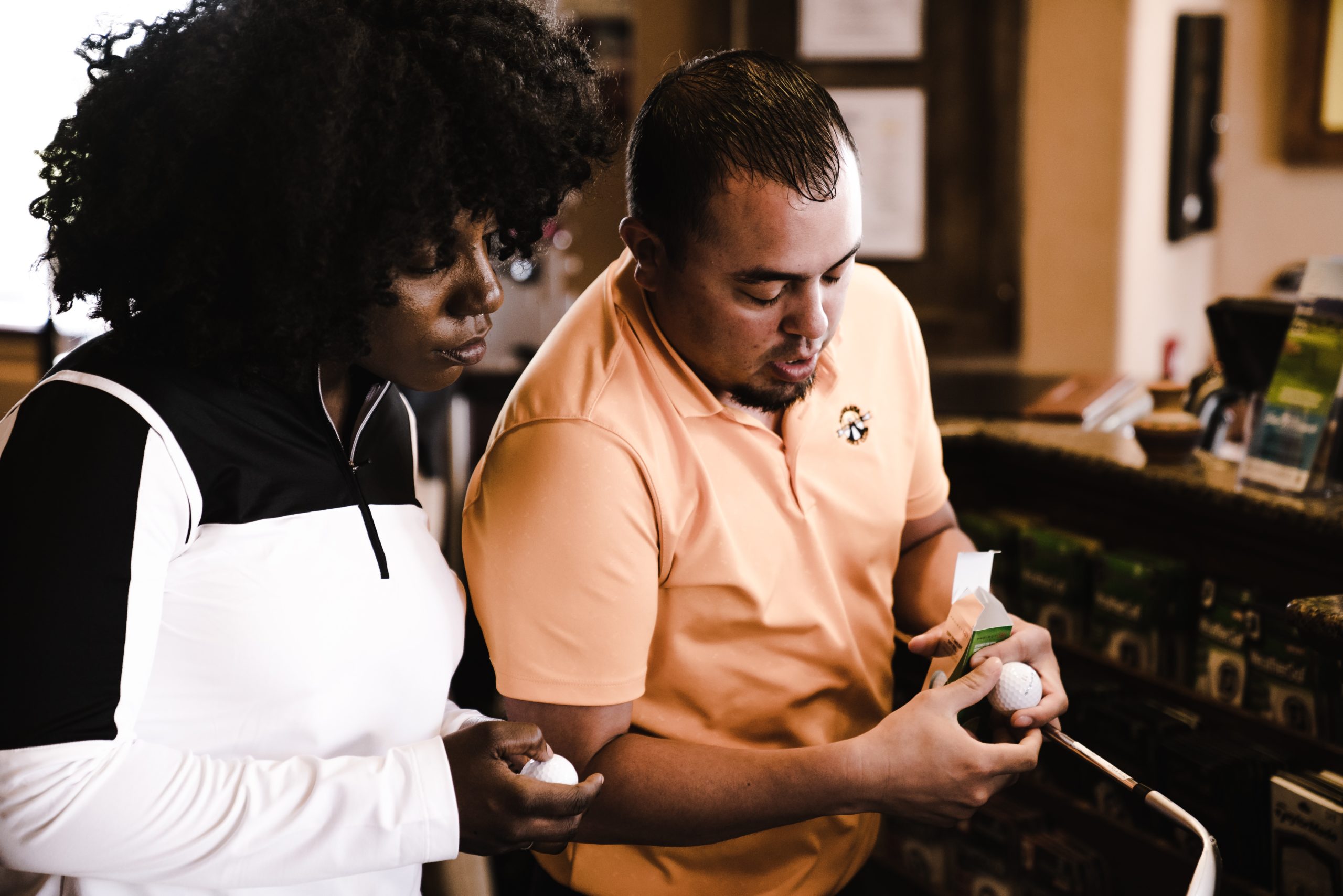 Our custom clubmaking process is an intricate blend of cutting-edge technology, precise measurements, and top-tier components.
We begin by making a meticulous assessment of your build, swing characteristics, and current equipment. Our clubmakers use Trackman launch monitors and other cutting-edge equipment to capture detailed information on swing speed, launch angle, ball spin, shot tendencies, and more. This allows us to make informed, data-driven decisions in designing the best set of clubs for your game.
When it comes to components, we partner with industry-leading manufacturers including Titleist, Callaway, TaylorMade, Mizuno, and Ping, among others, to guarantee that your clubs are built using the finest materials available. The outcome is a set of clubs that are not only unique to your game but also composed of the highest quality materials to provide you with the ultimate golfing experience.
Contact us for FREE consultation.
We provide a wide range of golf club repair services designed to extend the life of your favourite clubs and keep them in top condition.
Fresh grips not only enhance your club's appearance but also ensure a secure and comfortable hold, which is vital for a consistent swing. We offer a wide selection of high-quality grips from leading manufacturers such as Golf Pride, Lamkin, Winn, Avon, SuperStroke, and Royal Grip. So whether you prefer a softer, tackier grip or a firmer, more textured one, we've got you covered.
Re-shafting is another specialized area of expertise within our repair services. Our technicians can fit you with a shaft that suits your swing style, whether you need a lighter graphite shaft for increased distance or a stiffer steel shaft for more control. We use premium shafts from manufacturers like True Temper, KBS, Aldila, Grafalloy, Project X, and Fujikura. These manufacturers are known for their innovation and performance, so we can guarantee that the shafts we use are of the highest quality.
Loft and lie adjustments are also essential in customizing your clubs to your game. We use precise measuring equipment to fine-tune your clubhead angles. This can significantly impact your ball flight and accuracy.
With our comprehensive golf club repair services, your favorite clubs will receive the care they deserve, ensuring they continue to perform at their best and deliver excellent results on the course.
Contact us for FREE consultation.
In addition to custom-made clubs and club repairs, we offer a number of other specialised services including:
Club Length Adjustments: Altering the length of clubs to better match your height and stance.
Shaft Spining: Balancing and aligning shafts for improved consistency in your shots.
Golf Club Re-Grooving: Re-cutting and resurfacing grooves on irons and wedges to enhance spin and control.
Club Refinishing: Restoring and refinishing older or worn clubs to give them a fresh, polished look.
Golf Club Restoration: Restoring vintage or classic clubs to their original condition for collectors and enthusiasts.
Trade-In and Upgrade Programs: We offer trade-in options for older clubs when upgrading to new custom clubs.
Golf Accessories: We provide headcovers and other gear to complement your custom clubs.
Contact us for FREE consultation.
Customization Expertise: Our clubmakers are passionate about crafting clubs that align perfectly with your game. We take the time to understand your unique needs and preferences, ensuring that the clubs we create enhance your performance.
Premium Materials: We use only the highest quality components, ensuring that your clubs meet the highest standards of craftsmanship and performance.
Certified Professionals: Our clubmakers hold certifications from leading organizations in the golf industry, guaranteeing that you receive expert-level service and attention to detail.
Commitment to Excellence: We are dedicated to helping you play your absolute best. Our commitment to excellence shines through in every club we create and every repair we perform.
Customer-Centric Approach: We prioritize your satisfaction above all else. Our team is ready to answer your questions, address your concerns, and provide guidance throughout the club customization process.